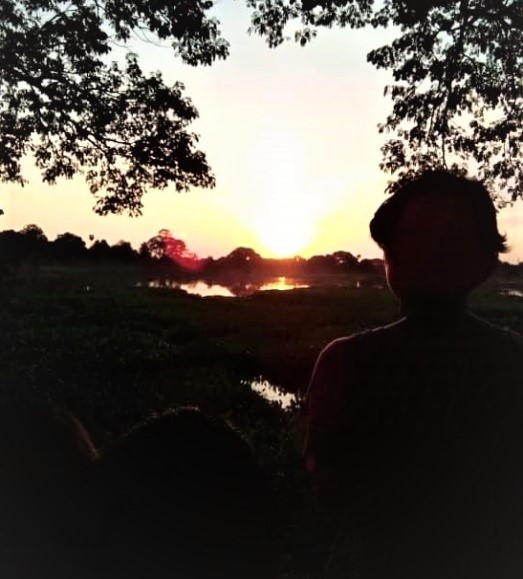 As we all know the Covid-19 pandemic is spreading all over the world, people are facing a global health crisis that is taking the lives of so many people, adding to human suffering and adversely affecting people's lives. It is a human, economic and social crisis.  People are living in very hard and uncertain times facing multiple threats to health and livelihoods.
Migrants and homeless people are not only struggling to keep good health but also are struggling in the economic front as well. Economic challenges during the outbreak pose a serious threat to people's work and businesses. Women in particular are exposed to increased risk of discrimination, exploitation and abuse. Girls and young women are facing severe economic shocks including Phyo Phyo.
Phyo Phyo is a young married woman from Yangon who was looking for a good job and a better life. She dreams to earn a lot of money and have a better life and build a happy and healthy family. Unfortunately, her dream did not come true. She ended up with an empty suitcase and without a penny. She has been living with her husband, son, and her younger sister for the last three years. To pursue her dream for a better life, she recently set out with her friend for Tachileik, a city on the Myanmar-Thai border in eastern Shan State. Having no ID card means that they traveled illegally. When she reached there, she found a job but did not get the salary she expected. So she kept changing her work from one place to another. Due to Covid-19 outbreak, as all the businesses were shut down, she was unemployed with nowhere to go. Her friend also could not help her. Finally she decided to go back to her hometown. That was the only option for her but she did not have a penny in her hand and no ID card for travelling.  To make the matter worse, her younger sister did not want to accept her back. She tried to get a bus but there was none. She walked along the high way. When she reached a village, she was exhausted and it was nearly dark. She asked for help and was taken to the village leader. Then the village leader contacted a Good Shepherd sister and requested to help her. The sister tried to help her to contact her family but her family did not want her back because of some family problems. Anxiety and fear on her face made her look physically weak and helpless. After some enquiries and medical checkup, the administrator asked the sisters to keep her overnight since there was no quarantine center available around and nobody wanted to keep a stranger in their homes due to the restrictions during Covid-19.  Finally, seeing her situation, the sisters decided to welcome her in the convent. After having food, she looked fresh, secure and safe. Luckily, she remembered her younger sister's phone number. First, her sister was reluctant to talk to her. While talking on phone, she kept repeating, "Even when you don't want me at this critical time, when I am in need of help and support, kind people who are total strangers give me a place to rest and make arrangements for me to come home without a charge".  After a long and repetitious explanation of the situation, her younger sister finally accepted her. The next morning, she was able to fly home from Tachileik to Yangon with the help of a township General Administration Department staff/officer and an NGO Volunteer. When she reached her home, she called the sisters saying, "Sisters, I am home. Thank you so much!"
We are happy to hear that she reached home safe and sound. We thank God and the people in authority who took the responsibility in different ways to help her out.  Now she feels safe and is forgiven and accepted back by her family members. Everyone feels warm and secure when accepted by people with love and hospitality. People feel so lonely and insecure when abandoned by own kith and kin.
In the gospel according to John, Jesus asked Peter three times, "Do you really love me?" Peter assures him three times, "Yes, Lord you know I love you." To which Jesus replies, Feed my Lamb Tend my sheep, feed my sheep!" Helpless sheep need safe place and security, need to be fed and cared for by others in this critical time.  As Good Shepherd sisters, we try to be responsible shepherds towards the needy sheep because God has chosen us as His instruments. We continue to commit ourselves to fulfill our role of shepherding God's people, despite the difficulties and hardships we may face. Whatever circumstance comes our way, we are reminded of the unwavering support of the Divine shepherd.