Many grace-filled moments
About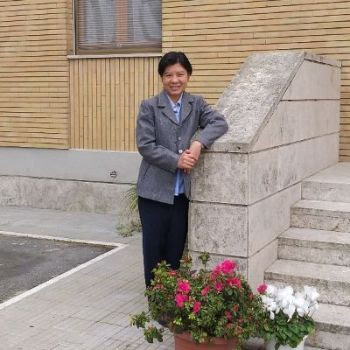 I was born in 1972 in Mawchi Mine, Kayah State, Myanmar. I have one older sister.  Since my father is a Buddhist and my mother is a Catholic, I learned how to respect other religions since I was at home.  Both parents are very faithful to their religion.  Now, both of them are retired.  My father used to go to the Buddhist meditation center and spend six months every year there, and for the other six months with the family. He loves us very dearly.  He tried to provide whatever we needed.  For him, the family is his world. My mum is very active in church activities.  It seems that she finds self-fulfillment in being involved in charitable work in the church.  I am amazed to see her selfless service.
Now, I have one niece.  She has been staying with my parents in my native town since her parents have to work hard in Yangon.  My parents used to tell me that since they offer me to God, God has given them a special gift, that is, my niece.
In fact, I learned from my parents how to value and to respect each person especially those who are underprivileged. So, when I learned the Good Shepherd charism and spirit, it was not something new for me.  Of course, I developed my knowledge in the community with the sisters.
In Good Shepherd
What attracts me most in the Good Shepherd Congregation is a special love for the women and children who are at the margins.  During my second year novitiate, I was sent to Pattaya community for six months for community and ministry experiences.  I was asked to work with children who had experienced sexual abuse..  At first, I could not do anything much for them.  I only washed their face, cut their nails and fed them.  The more I loved them, the more I found ways and means to help them. Through these experiences, I learned to understand the word of Saint Mary Euphrasia – 'I have no special talents, but I have loved with all my heart'.
The Challenges
After my first profession in 1999, I worked with teenage girls in difficult situations in Thailand, and later with girls rejected by society in Myanmar. It was a great challenge for me. God has given me a gift of being soft spoken, an affectionate heart and gentle behaviour. This helped me to gain their hearts although sometimes, I felt so helpless in accompanying them. Then, I was transferred to Yangon Community, where I worked in health-care ministry.
Some years ago I participated in Myanmar Ecclesia of Women in Asia.  Also I had the opportunity to participate in the Formation Training Modules in the Philippines in 2011-2012.  I enjoyed the opportunity to work on the Asia Formation Core Team, until 2017.  I was involved in formation ministry for a number of years.
The year 2018 unfolded many new experiences for me.  First, when I was asked to join the Finance Team in the Generalate community in Rome to provide support in financial management and administration I came in with mixed feelings.  I found it challenging to find meaning in this ministry, however six months later my attitude changed with these thought-provoking words: "You are not only dealing with the number itself but you are dealing with the lives of many people who are in need behind each number. So, acknowledge what you are doing".  As time went on, I came to realize that it was much more than professional work especially when it came to relating with the Sisters and Staff who I was blessed to encounter when dealing with finance matters, listening to their stories and helping them in the best way I could.
It was quite another experience when after a year and 10 months God was inviting me to the formation ministry, a ministry close to my heart.  After a long period of discernment, I said 'Yes' to be the formator in the Inter-province Novitiate which was a pilot project. So, on the 1st of November 2019, I moved to St. John Eudes' formation community (where I was joined by Sisters Frances Lynch, Marcelina do Nascimento and Annunciata Gatt). Journeying with 8 young women from different continents was and is a privilege and a journey filled with many grace-filled moments.  It was a mutual experience of new learning for all of us about each other's culture, perspectives, food preferences, just to name a few. Throughout this period, I just turned to God and asked God to give me a heart to love them and God never failed to give me the grace.
The Inspiration
I find meaning in what I am doing despite of the many challenges I face. I feel privileged to journey with the young women and to listen to their stories. I realize how God works in their lives which help me to deepen my own faith in God and to see God's faithfulness in each person's life. Moreover, I also learn so much from the community Sisters. Here too each of us had to grapple with differences in age, formation, culture, language, etc. Gradually we began to grow in our understanding and acceptance of each other as well as in appreciating the different gifts and cultures that each one brings. From all these experiences, I feel called to surrender to God and to let God lead me in my life. I believe and hope that my experience of serving in this inter-province novitiate will abound with graces and be a transformation process for my own life.